You Are Welcome at Family HealthCare
Our mission is to provide exceptional healthcare that is affordable, compassionate, dignified, and respectful of all people. Family HealthCare is a comprehensive, primary care clinic that provides excellent medical and dental care to anyone and everyone who needs it.
We Want to Be Your Patient-Centered Medical Home
Family HealthCare has adopted a patient-centered medical home care model because it empowers you to take charge of your health with the support and expert advice of your care team. All the physicians, counselors and support personnel who make up your healthcare team will collaborate with you to develop a care plan focused on improving and maintaining your health.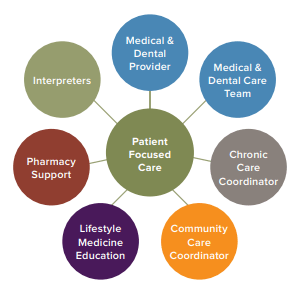 Comprehensive Managed Care
You will have a personal healthcare provider or care team who coordinates your complete medical care to ensure that you receive all the services you need. They will coordinate your appointments, monitor your test results, and keep everyone on your medical team informed of changes to your overall health and treatment plans.
Access & Continuity
You'll be able to easily communicate with your healthcare team to ask questions and report changes in your health to better manage your care and treatment. This team approach among you, your medical providers and your care team promotes improved continuity in your care because everyone is working together.
Self-Care Support & Community Resources
We will also provide you with the support and educational resources you need to effectively manage your health.