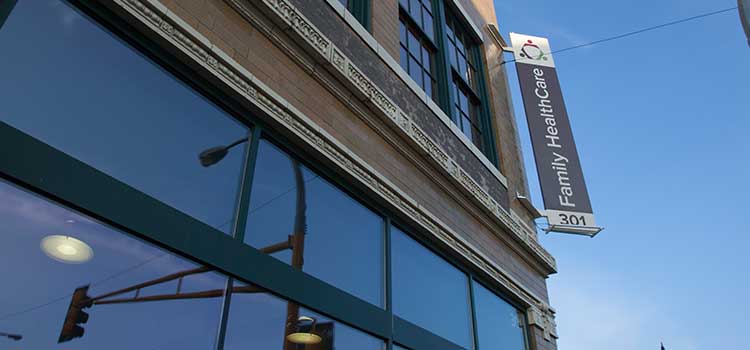 Our Historic Move
In late 2009, our community came together in a beautiful way to begin preparing for a new, convenient location that allowed us to be more accessible to those who need us most. Our main clinic is now housed in the historic Pence Automobile building and three adjoining buildings on NP Avenue in downtown Fargo.
At nearly 100 years old, the Pence Automobile building features a gorgeous terrazzo floor, original pink marble staircase, floor-to-ceiling windows and much more.  Why is this particular building so significant to Family HealthCare? Simply put, it fits perfectly with our mission because it allowed us to treat these forgotten buildings with dignity and respect, creating a tribute to the health and wellness of our community.
Our Growth in the Community
Our historic main facility has been immaculately renovated and now contains 33 medical exam rooms, 7 dental chairs, an automated pharmacy, on-site lab, x-rays, and offices for counseling, optometry, refugee health, interpreters, behavioral health, physical therapy, chiropractic care, and health education. Vitally importantly for our patients, is that this wide-array of medical services is conveniently provided all under one roof. In response to the increasing need within the community and to provide greater access and convenience to our patients, Family HealthCare has opened two new clinics, one in south Fargo and another in West Fargo. Each clinic is conveniently located and with direct access to public transportation.
As a testament to the growing community need for our services, we provide care to nearly 16,000 patients and more than 60,000 patient visits. This continual growth is a reflection of our commitment to providing unrestricted access to affordable, quality care.
Family HealthCare Timeline
The origin of Family HealthCare goes back to 1990, when a clinic was opened and formed under a Section A Homeless Health Care grant. Three years later, and with a growing community need for access to primary care, our non-profit community health center status was granted. A timeline of significant events  in Family HealthCare's history is provided on this page. Click on specific year to see notable events.
Over the last 20 years, Family HealthCare has expanded beyond primary medical care by offering numerous complementary integrated care services.